The Salmon Arm Ice Breakers Speed Skating Clubs Season runs from Sept 2019 to March 2020. Come and join us we have ongoing registrations throughout the year!
Where do we skate?
Wednesdays Group 1: 5:45-6:30 pm Group 2: 5:45-6:30 Dry land; 6:30-7:15 pm Ice Hucul Pond
Fridays Group 1: 5:15-6:00 pm Group 2: 5:15-6:00 Dry land; 6:00-6:45 pm Ice Main Rink
Please be in the dressing room 15 minutes prior to ice time to get ready with the club and help with putting mats up around the rink:)
Salmon Arm Ice Breakers divides skaters into two groups. Practices are based upon these groups. Skating members of the club are evaluated at the beginning of the season and grouped by the coaches. The following factors are considered during the review of each skater: skating skills, size of skater, size of groups, skater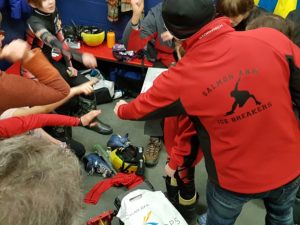 age. Generally the younger, beginner skaters will be placed within Group 1. As skaters develop during the course of the season, the coaches will continue to evaluate and move skaters, group sizes permitting.
It is never to late to try out speed skating. If you want to join partway through our season, we will prorate the membership fees.
If you participate in our "Learn to Speed Skate" program, and want to join our club for the balance of the season, we will credit the fees from the "Learn to Speed Skate" to go towards the club fees.
Registration Forms and Information:
Member-Registration-form 2019-20
Associate Registration 2019-20