Stay tuned for more information regarding our 2019 regional speedskating Ice Jam at the Shaw Centre!
---
2018 Ice Jam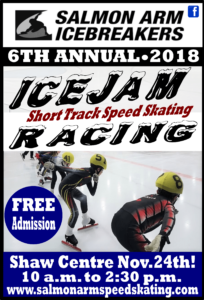 ICE JAM 6th ANNUAL INTERCLUB
Date : Saturday 24 November 2018, 8:15 am -3:00 pm
Location: Shaw Centre 2600 10 Ave SE, Salmon Arm, B.C.
Sanction: BCSSA Competition Sanction
Format: Mixed Ability All Ages: Track: 100m Oval & 111m Oval Eligible Skaters: All Speed Skating Canada registered Skaters Comp 4 Life may skate in their own division
Entry Fees: Active Start $25; all other categories $40 (Includes $2 for ODC)
For more information please contact: Meet Coordinator: Rick Hofmann, email: rhofmann@shaw.ca 250-804-3121 Crystal Belway email: crystalbelway@hotmail.com 250-833-7995 Chief Recorder: Robyn Keating robynfraserkeating@gmail.com 250-804-8598
Please bring all meet entry forms and one club cheque to registration. Fees are due prior to skaters going on the ice.
We will need Timers, Place Judges, Lap Counters, and Track Stewards. If you can help, please email the meet coordinator Rick Hofmann rhofmann@shaw.ca or Crystal Belway crystalbelway@hotmail.com with the position you would like to do or we can place you in a position where we need help.
WE NEED YOUR PARTICIPATION IN MAKE THIS EVENT SUCCESSFUL. Thanking you in advance.